XMAX QOMO VAPORIZER OPERATION GUIDE
Share
publisher

Kenny Choi
Issue Time

2021-01-28
Summary
XMAX QOMO vaporizer operation guide tell you how to use your Qomo from Zero. Including: Charge, Fill the Glass Bubbler, Install, Load, Power On/ Off, Temperature Settings, Heating and Inhale, Clean, Atomizer Replace, MAINTENANCE
1.Charge
Fully charge device before first use. Please use the included USB-Ccable to charge your device. Device power light flashes while charging, and turns off automatically when fully charged.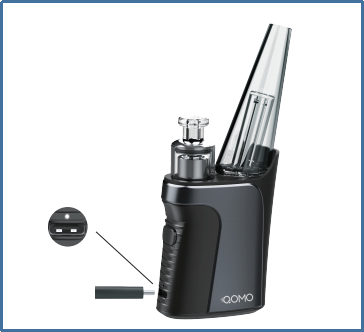 2.Fill the Glass Bubbler
Fill glass bubbler with water no more than the red line. Do not fill glass while attached to battery.
Note: Water will damage battery. Do not overfill glass.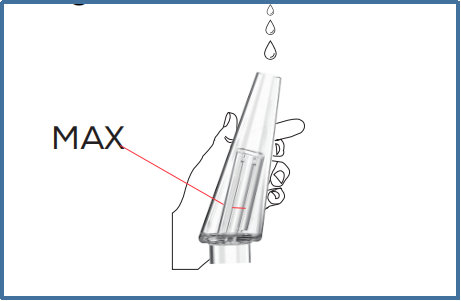 3.Install
Install the glass bubbler and heating atomizer properly.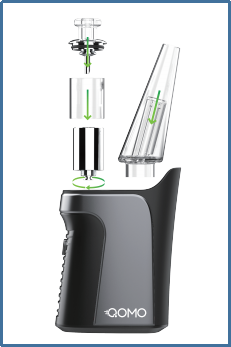 4.Load
Use the dab tool to place a small amount of concentrate or essential oil. Then put the carb cap back.
Note: Do not overfill. Overfilling can damage your device.
(Do not over load the deivce chamber with desired materials, for devices with variable temperature settings please find the best setting that is comfortable and safe for your enjoyment.)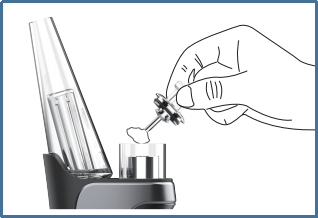 5.Power On/ Off
Click the power button 3 times consecutively to turn on. The power light will flash 3 times. Then the corresponding temperature light illuminates when the unit is on.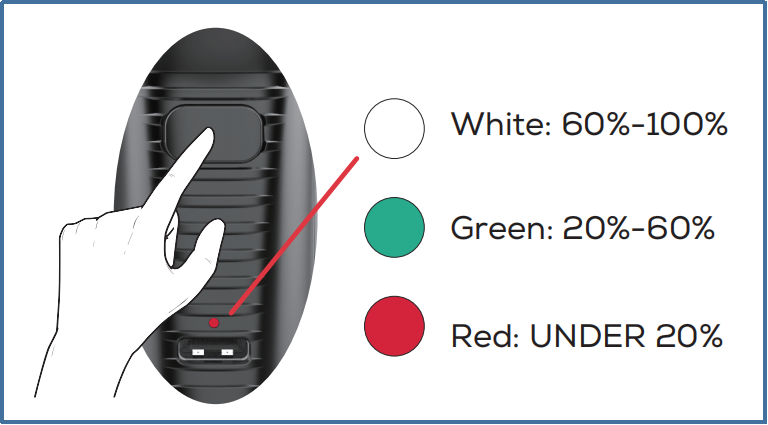 6. Temperature Settings
The XMAX QOMO has 3 temperature settings(350°C/662°F, 320°C/608°F, 280°C/536°F). Click the power button twice to change temperature settings.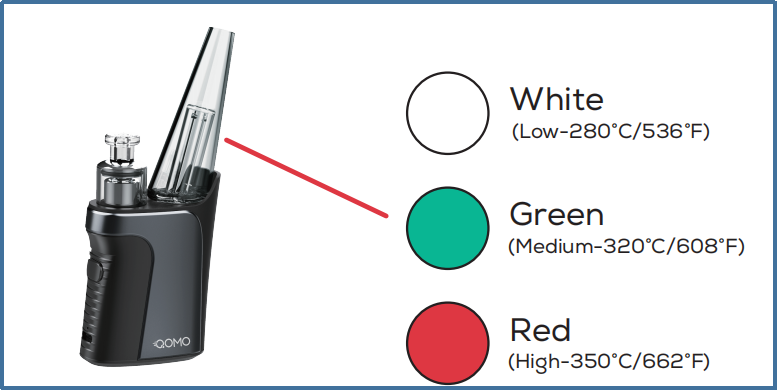 7. Heating and Inhale
Click the power button once to start heating.The device will pre-heat in 10 seconds withthe orange color light flash rapidly. Then corresponding temperature light will breath flash indicate readness to inhale. Once session is complete if desired, the power button can be pressed again to increase the use for an additional 20 seconds. The X-MAX QOMO will automatically turn off if not used for 60s.
Note: Inhaling gently will produce the best results.
8. Clean
Use a cotton swab to clean the heating atomizer after each use. Once clean allow to air dry or dry off with a soft cloth or towel.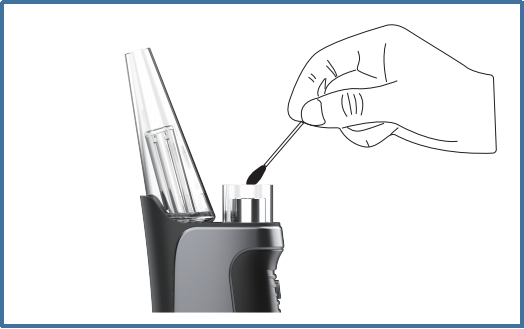 9. Atomizer Replace
Simply remove the Carb cap and glass tube, then unscrew the used heating atomizer from the base. Once the used heating element has been removed you may now install the new atomizer by screwing it directly into the device. Then re-install the glass tube and carb cap.
Note: You may need to press the atomizer a little bit when installing the new coil, because the atomizer use a spring thread.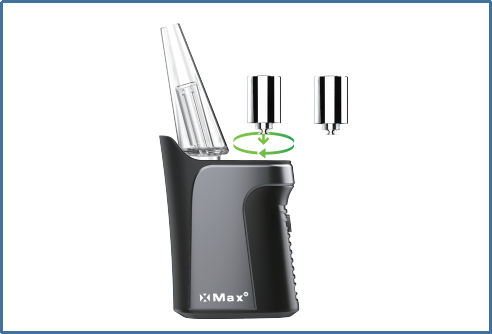 10.MAINTENANCE
After using the XMAX QOMO or charging, please allow the device to cool down before storage. It should be stored in a clean, dry place protected against the effects of weather and out of the reach of children and pets. If you have any concerns or if there is any problem, please switch off the XMAX QOMO and or remove it from the charger immediately. Do not try to remedy any defect yourself. Contact our customer service directly at support@topgreencig.com.
WARNING
DO NOT TOUCH THE HEATING ELEMENT IMMEDIATELY AFTER USE.
DO NOT SUBMERGE OR CLEAN BATTERY WITH WATER OR ISOPROPYL ALCOHOL.
ALWAYS DETACH THE XMAX QOMO HEATING ELEMENT FROM BATTERY PRIOR TO CLEANING.
11.OTHERS
NAME: XMAX QOMO DAB RIG
BRAND: XMAX
MANUFACTURER: TOPGREEN